Impression: Dragon Age 2 worth every sovereign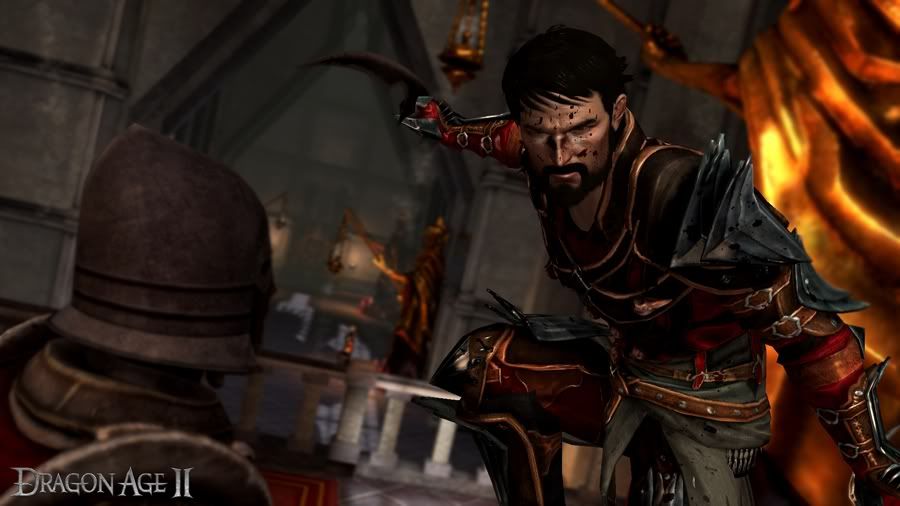 Photo:
EA, BioWare
Game reviews aren't necessarily a must-read. Usually, I find them pretty useless and prefer to play a game myself. With that kind of mindset, I usually don't write reviews. I write impressions or super-opinionated articles with no rating. If you enjoy that type of thing then read on! If you're looking for a quick number, then move along, this isn't the text you're looking for.
Let's talk about Dragon Age 2, the Xbox 360 variety. Apparently, it's a pretty hot topic right now for one paramount reason. Either you love this game or you hate it. I'm sure there are plenty of lukewarm feelings for it out there, but the vocal folks are either/or. I fall on the side of loving it, although I'm not an idiot, and I know it's not perfect.
Art: David Stonecipher

Before we get started, you should know that I didn't play the first Dragon Age. If it matters, I played the hell out of Mass Effect and played Mass Effect 2 even more than that. I'm a fan of Mass Effect and thought, "Hey, they've got to share some similarities; I should try this one." The jump from Mass Effect to Mass Effect 2 was a welcome change for me. Going into playing Dragon Age 2, I assumed that Dragon Age wouldn't be needed to enjoy the sequel. I also thought that the jump between the two would be so great that I wouldn't want to play the first title (I don't really enjoy playing Mass Effect anymore, it is very… tedious). If you aren't turned off by now, then reading this may be somewhat entertaining!
Dragon Age is like the homely, smart girl with glasses. It turns out that when you take her glasses off and tart her up, she's hot. The glasses are the nerdy conventions of fantasy games while the tart part consists of pure action. I like learning about a world; I like connecting with characters, but I don't like to be bored. There's enough action in Dragon Age 2 to keep me entertained. At the same time, there's a cinematic vibe that makes me feel like I'm in a movie. That's an epic feeling and it's probably the best way to describe why I like the game.
As a babe in the Dragon Age world, I didn't immediately know what was going on around me. You're thrust into combat early on and I liked it. It was natural, but I credit that to my history with Mass Effect. The combat basics were there and the frame story with Varric helped guide me along. As long as I listened the characters, it was easy to catch on to the story. There's nothing changing the literary landscape here, but the story is built upon a fine foundation. Add on extensive character development through attributes, abilities, and a bit of companion customization and you've got quite the game.
Where Dragon Age 2 really hooks me though, is with the romances. I'm a true girly-girl when it comes relationship building within a game. For all its action and enormously fun combat, I was taken back the most by working on my friendships and rivalries. In Dragon Age 2, you can either befriend a character or build an adversary out of them. Neither is necessarily good nor bad; the relationships are just different. Regardless of which type of relationship you choose, you're given a chance to start a romance with four of the companion characters (Fenris, Merrill, Isabela, and Anders).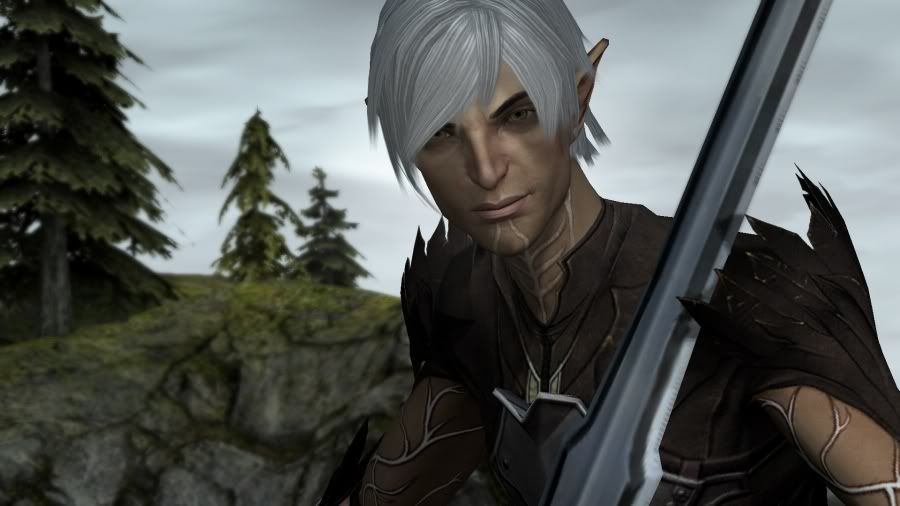 Photo: EA, BioWare
I'm familiar with BioWare romances. I know how they usually work, but courting Fenris was a challenge. There was another level to it beyond just knowing what to do in front of him. He was kind of a whiner, and I wasn't always sure things would work out. That kind of drama and dissention, even if it can end well, makes for a soap-opera-like B-plot that really engages me. It also helps that all romance-inclined companions are bisexual making my future characters quite happy. That's a luxury some titles lack.
Like I said before, the game isn't perfect. There are annoyances in your journey in and around Kirkwall. Load times aren't great, character hands are extremely "Gentlemanly," party selection is awkwardly placed, you see the same maps over and over, Fenris never cleans his house after years of dead bodies rotting in it, etc. My biggest complaint is probably how quests are tracked. Companions quest and side quests in particular aren't tracked at times even when they're the active quest. It can be frustrating to pause every few minutes to see what you need to do, especially when you're already pausing the game to equip items or spend attribute/ability points. Targeting is wonky at best making melee a complete mess at times. Thank goodness I'm a bow-wielding rogue. Not to mention, friendships and rivalries can be exasperating for impatient players or those they have issues figuring out what an NPC wants.
Even still, the game is strong with a good balance between storytelling and action. The voice acting is superb and, for me, the combat was great. Controlling others was easy when I needed to do it, and the tactics system really gave me a sense of control missing from conventional RPGs. As I progressed through the story, I meant characters that I could tell were from the first game. Instead of being lost when they talked to me, I felt like I needed to know more about them. I felt like I missed out on something by not having played the original game. Although it was disappointing, it made me want to play the first title. I'm not sure if having played the first title would alter my opinions about the second. From what others tell me, it would have made a difference and possibly for the worse.
There's a reason I didn't play the first Dragon Age. It's a high fantasy setting with exceedingly standard conventions. I play MMOs for a living and, frankly, I don't need more of the same. It turns out that the lore isn't too cut and dry. The characters are, unsurprisingly, well developed and interesting. The combat and control was rewarding. Honestly, I was surprised. Dragon Age 2 makes me want to play Dragon Age. That means something. It means I enjoyed enough to care about its origins (HA!) while pushing me toward DLC and the next game. There aren't too many games that can do that.
Trackbacks